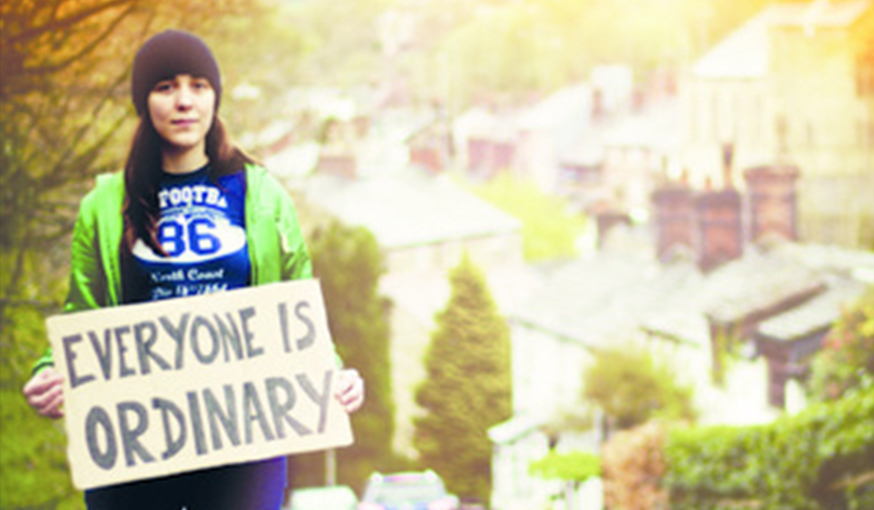 Everyone is ordinary
Genre :
acoustic folk nigel stonier thea gilmore beautiful folk rock indie pop singer-songwriter Manchester
Released Date :
2 / Oct / 2013
Paradise Found
Under The Radar
The Cat and the Moon
River City
The Mountain Goat
The Girl I Knew
My Best Friend, My Ego
Look Through Water
Comfort Brings Pain
Little Wheels
Kate Rusby
Heading With Heading Shortcode
"Everyone Is Ordinary"?
Well a cursory first listen to Tracey Browne's debut album could easily invoke comparison to a host of singer-songwriters…
A British Joan Osborne perhaps, a 21st century Kirsty MacColl, a folkier Sarah McLachlan, a poppier Karine Polwart…they've all been mentioned, but who knows…and who cares; before that first listen is over you'll more than likely have reached the conclusion that Tracey Browne transcends comparisons, and with those oft neglected virtues of a fine voice and a great melody, she's already taking you some place else, some place all her own.
Having grown up in Cambridge and re-located to Manchester several years ago, Tracey has honed her craft in a rich variety of musical settings, from full throated rock vocalist with the short lived but acclaimed Minus One Raver, to purveyor of intimate folk songs in acoustic venues, either solo or with her trusted 'Team Tracey'.
She is also live backing vocalist/keyboard player for Thea Gilmore, whose last two albums she appears on, and an in demand studio sound engineer working freelance mostly at Manchester's Airtight Studios, a regular stop-off for King Creosote, Emmy The Great and I Am Kloot amongst others.
But it's that voice and those songs that will have you reaching for the repeat button.
Often deceptively straightforward and shot through with a pop sensibility, Browne's material seems hand crafted to catch those fleeting, transient moments, the times in lives where the axis tilts, the season begins to change and the balance hangs…
Listen to her unflinching honesty as the lover caught in the stay-or-go moment of "Paradise Found", hear the struggle between vulnerability and defiance in "Comfort Brings Pain" or the unassuming epiphany that is the exquisitely fragile "River City", one of the album's highlights.
Elsewhere she's ruminative on the loss of musical innocence on "The Girl I Knew" and hilariously cutting while sticking it to a diva on "Under The Radar". Always she's direct and honest, and a teasingly memorable phrase or hook is never far away.
"Everyone Is Ordinary" was produced by Nigel Stonier, who has worked with artistes from Martha Wainwright to Fairport Convention, from Thea Gilmore to Clare Teal. Stonier also played guitar and keyboards on the record, and there are guest appearances, from Thea Gilmore herself, from revered roots accordion player John Kirkpatrick, and from violinist Sarah Kemp (Lanterns On The Lake) as well as longtime Browne collaborators including fellow Mancunian songwriter Becca Williams (Becca and the Broken Biscuits) and James Trott (aka Jacob H James, himself receiving overdue acclaim and national airplay for his solo work).
The album is mixed by ex Earlies member Tom Knott, who worked on Paul Wellers "Wake Up The Nation" album last year.
A live Tracey Browne gig is a thing of unpredictability…a sparky, guitar toting Ani diFranco-like onstage presence, she will deliver solo acoustic versions of many songs off the album… but dont be surprised if she slips seamlessly into an all acoustic AC DC or Skunk Anansie cover…and expect her celebrated punked up version of "Fame" at some point in the proceedings…
"Everyone Is Ordinary"? Debatable.
In the over populated landscape of singer songwriters, Tracey Browne most definitely isn't.
credits
released 19 March 2012
Tracey Browne – vocals, acoustic guitar, tenor guitar, Q chord, percussion
Nigel Stonier – guitars, piano, hammond organ, cuatro, ukelele, harmonica, percussion, bass
James Trott – vocals, tenor guitar, piano, ukelele
Sarah Kemp – violin
Thea Gilmore – vocals
Becca Williams – vocals
Liz Hanks – cello
John Kirkpatrick – accordion, concertina
Roy Martin – drums
Duke – harmonica
Album Promo Video